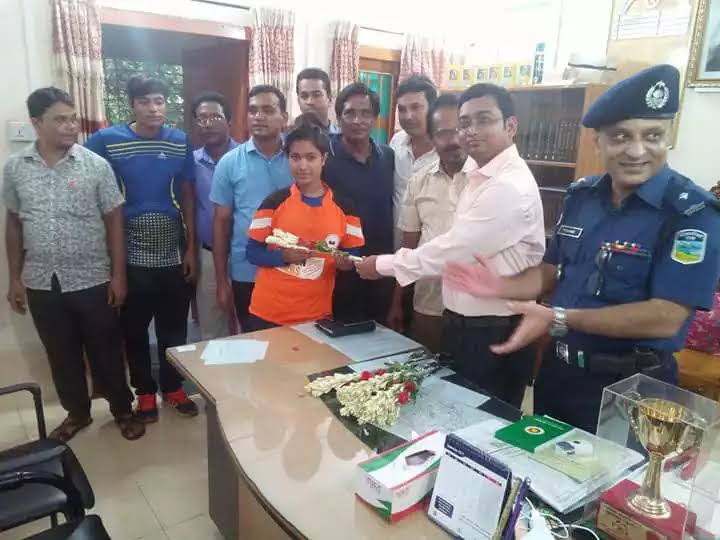 BD U15 girls striker Sabina Yesmeen passes away
Dhaka, September 26: Bangladesh National U15 Women's Team forward Sabina Yesmeen passed away from fever on Tuesday at 3:15pm at her residence at Mymensingh.

The Bangladesh Football Federation expressed deep sorrow and conveyed its sincerest condolences to the family.
BFF President Kazi Salahuddin said it was always difficult to cope with a death in the family. He hoped that the bereaved family would find the strength to deal with these hard times.
BFF officials, expressing their deep shock at this untimely demise, said Sabina leaves a void in our hearts as well as the team.
The 14-year old is survived by her mother, elder sister, younger brother and numerous well-wishers.
Sabina was a ninth grader of Kalsindur School and College in South Ranipur village.
Sabina fell seriously ill on Tuesday and was rushed to Dhobaura Upazila Health Complex. Khadelum Islam Naeem, the doctor in charge at the hospital, said Sabina had passed away even before reaching the hospital. "She died at around 3:15pm on her way to the hospital."
Sabina was among the players chosen for the national Bangladesh U15 women's team for the upcoming SAFF U15 championship in December. She was also expected to participate in the training camp ahead of the SAFF championship.
Sabina was a member of the champion U-14 contingent in AFC U14 Regional Girls Championship, 2015.
Sabina had returned home from the U-15 camp on September 18.
BFF President Kazi Mohammad Salahuddin, Senior Vice-President Abdus Salam Murshedy, vice presidents, general secretaries, standing committee members and officials at the BFF expressed their grief and condolences.