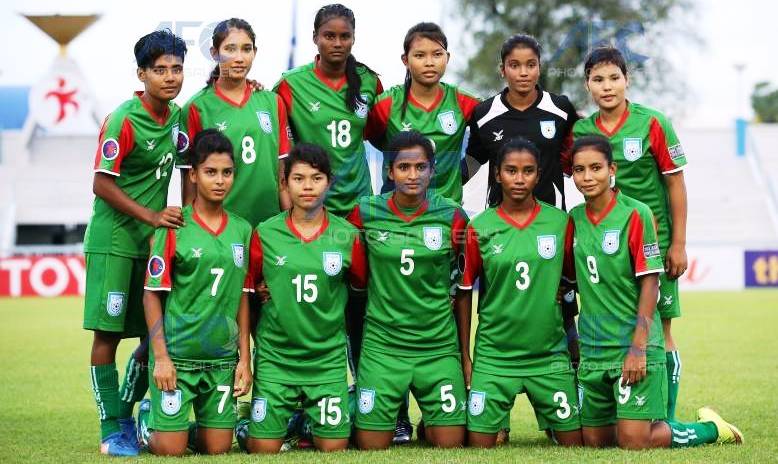 U16 girls building up steam
Dhaka, October 10: Bangladesh National Women's Football Team began 2017 returning SAFF runners-up for the first time. Not that it was the first time people became aware of women's football potential, but the women, or rather girls — most of them were not even 17 — had had created history and rewritten record books.
The red and greens had conceded 1 goal and scored 13 in India's Siliguri in December 2016, with six against physically superior Afghanistan, one against champions India and the six against the Maldives. The Bangladeshi girls were up against players whose professional experience spanned more than their entire lives.
The U-16 girls who form the core of our national went on to make headlines through the year with their performances. Although not successful at every outing or campaign, their constant improvement has proved that planned residency programmes with proper guidance can pave the way to world class football.
Fast paced and fiery on the pitch, the U-16 girls have presented football to the fans like never before.
They played their last international match against Australia in Chonburi, Thailand in their final group match of 'AFC U-16 Women's Championship' on September 17. The red and greens had a 3-1 defeat against Australia, who are ranked 6th on FIFA international rankings while Bangladesh are ranked 106th. What is even more impressive is that team Bangladesh managed to level up from 1-0 down with just 10 players and one sent packing was one of our best forwards.
If making it to the last eight teams of Asia had been tough, playing at this level was always going to be overwhelming. The lesson came fast and hard when Bangladesh lost a demoralizing 9-0 against champions North Korea. But learning quickly, Bangladesh put up a great show against superior Japan restricting them to a 3-0 win. All three goals were in the first half and the girls managed to fend off the Japanese throughout the rest of the gam.
Coach Golam Rabbani Choton puts his bet on the rigorous residency behind the success. "That is what made the difference. Workouts, training, international tours and world class practice paved the way for us." He remembered a time when Bangladesh could not even face the prospect of playing the Asian giants. "But now everything is different," he says punctuated by shouts at his young wards around the training ground.
The U16 girls squad is already back into full training and the head coach appreciates all this support.
He is convinced that this squad will transform women's football in Bangladesh taking it to new heights.
Captain Krishna Rani Sarker echoed her coach while talking about the team's success. She praised the residency camp at the BFF House in Dhaka. "We practiced together almost every day and practically we have been living together for the last year. Our chemistry has become so much during this year. We know everyone's moves and game plans, which is important at the international level."