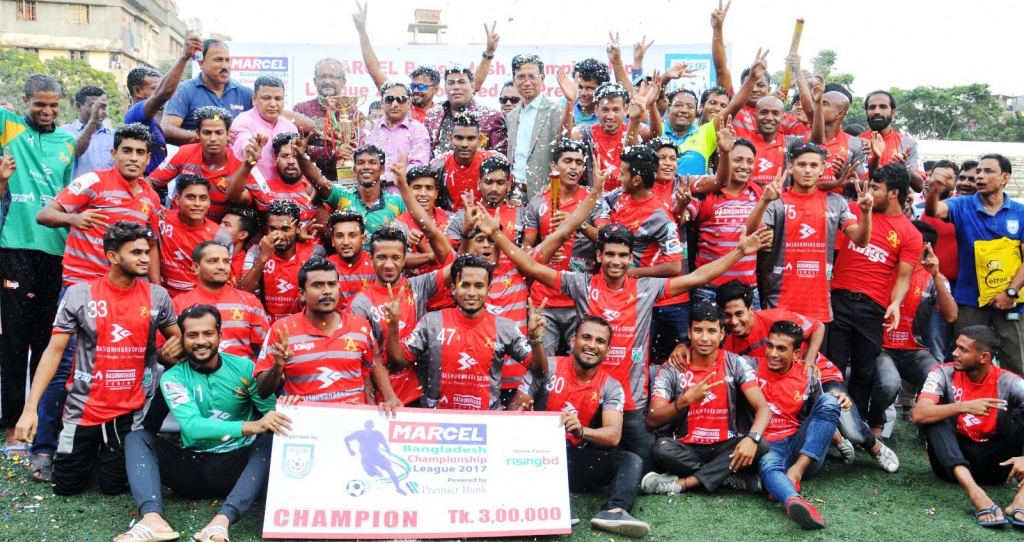 Bashundhara Kings crowned champions of BCL 2017
Dhaka, November 11: Bashundhara Kings, with 35 points from 18 games this season, have been named champions of the Marcel Bangladesh Championship League 2017.
On Saturday, the last match of the season was played by T&T Club and NoFeL Sporting Club at the BSSSM Mostafa Kamal Stadium, Kamlapur, and the latter was crowned runners up with 32 points from 18 matches this season.
With the championship title, Bashundhara Kings have secured a spot for next season's Bangladesh Premier League and with the least points, Karwanbazar Pragati Sangha has been relegated.
The closing ceremony of BCL 2017 season was held at the BSSSM Mostafa Kamal Stadium, where Abdus Salam Murshedi, BFF Senior Vice President and Chairman of the Professional Football League Committee, FM Iqbal Bin Anwar Don, Operative Director of Walton were present.
The Fair Play Trophy was awarded to Karwanbazar Pragati Sangha.
In BCL 2017, champions Bashundhara Kings scored 23 goals and conceded 19, while runners-up NoFeL SC scored 26 and conceded 12.