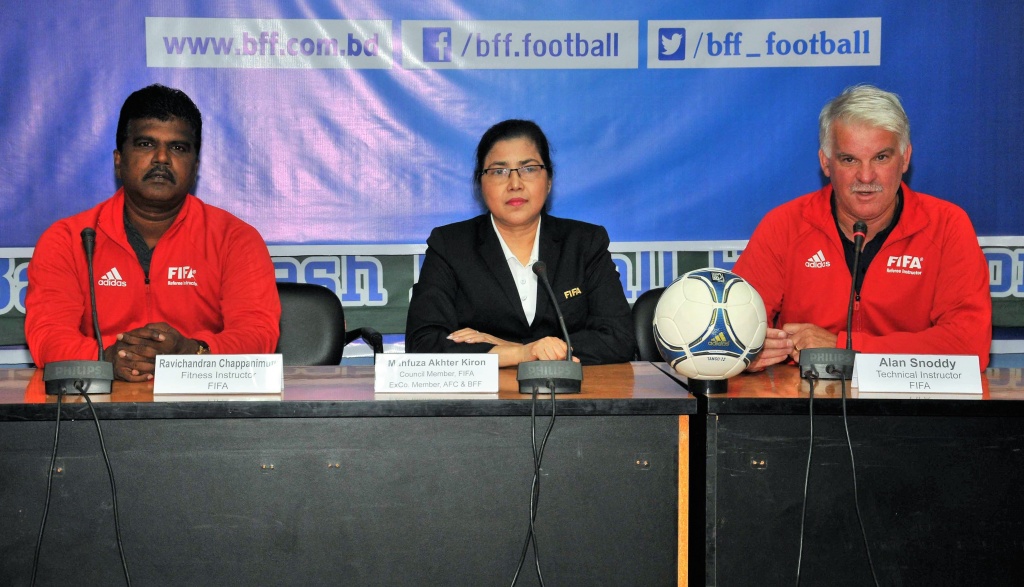 Closing ceremony of FIFA MA Referee Instructor Course held
Dhaka, November 15: The closing ceremony of FIFA MA Referee Instructor Course 2017 was held at 4:30pm at the BFF House in Motijheel on Wednesday.
FIFA Council member and BFF Women's Football Committee Chairman Mahfuza Akhter Kiron was present as the chief guest at the closing ceremony.
With the participation of the best referees in the country, a 3-day FIFA Member Association Referee Instructor Course 2017 began in Dhaka on November 13.
In total, 1 female and 27 male coaches and instructors took part in the course.
Here is the full list of the participants:
1 MD IBRAHIM NESAR
2 MAHBUBUR RAHMAN BHUIYA (MUKUL)
3 MD. RAQIBUL ALAM
4 ABUL MAHSUR AZAD
5 FAIZUL ISLAM ARIZ
6 TAYEB HASAN SHAMSUZZAMAN
7 ABDUL MUNAF SARKER
8 ABDUL HANNAN MIRON
9 MD SABBIR SALEQUE SHUVO
10 NAHDIA AHMED ETU
11 MOZZAFOR HOSSAIN
12 SHAHDAD BHADOL
13 NRIPEN ROY CHOWDHURY
14 HARUN UR RASHID
15 MOINUL ISLAM
16 MD TUFAZZAL HOSSAN
17 SHAHIDUL ISLAM LALU
18 S M SADAT HOSSAIN
19 MD AZAD RAHMAN
20 BHARAT CHANDRA GOUR
21 SUJIT KUMAR BANERJEE
22 MD MIZANUR RAHMAN
23 MOHAMMED JALAL UDDIN
24 JASHIM UDDIN
25 PRONAB DEB DAS
26 MD RAFIQ UL ISLAM (SATKHIRA)
27 HELAL UDDIN MD SAIFUL ISLAM
28 NAZMUL HUDA
FIFA officials Ravichandran Chappanimutu and Alan Snoddy conducted the course.