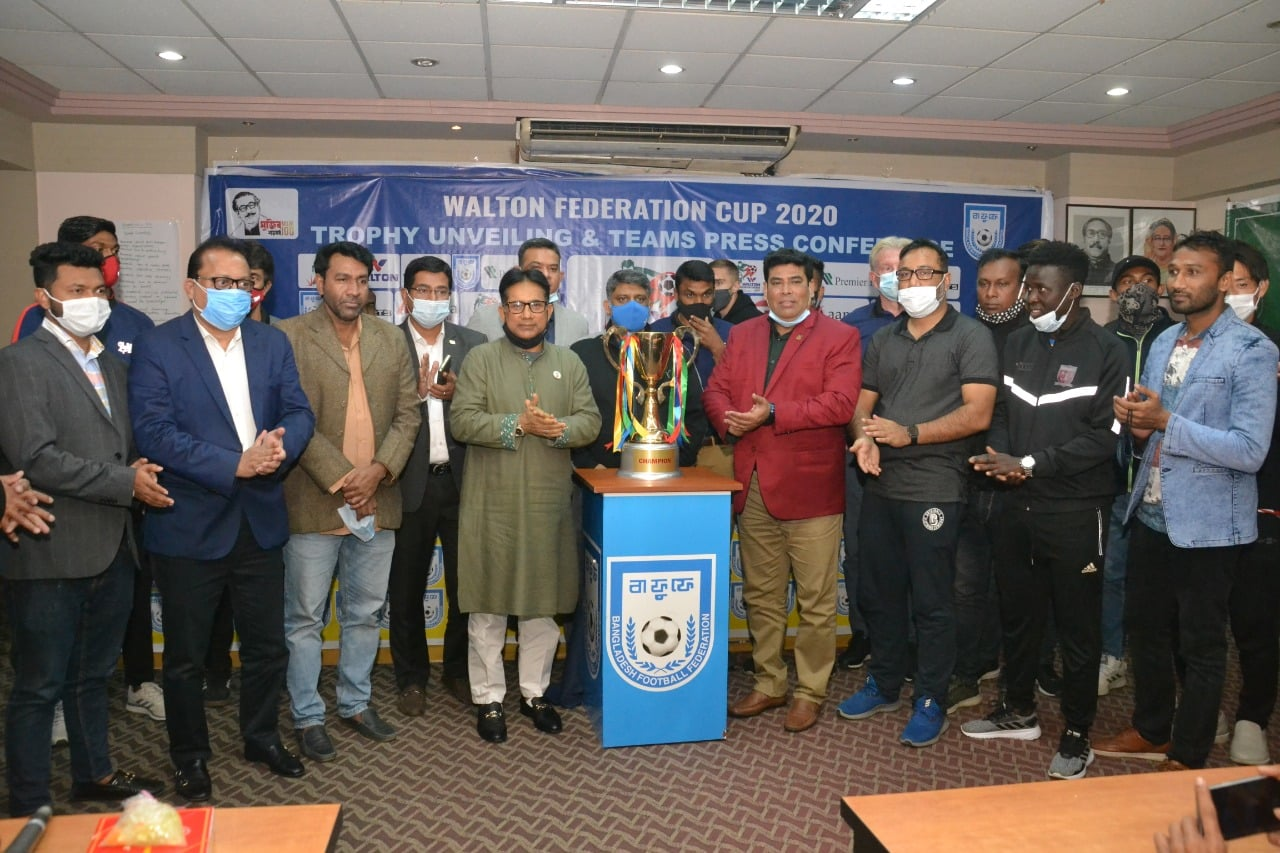 BFF unveils the trophy of the "Federation Cup 2020"
The top 13 clubs in the country under the management of Bangladesh Football Federation are: Bashundhara Kings, Abahani Limited, Shekh Russell Krira Chakra Limited, Saif Sporting Club Ltd., Arambagh Krira shongho, Lt. Sheikh Jamal Dhanmondi Club Limited, Bangladesh Muktijoddha shangshad krira chakra, Chottogram abahani Limited chottogram, Mohammedan Sporting club limited, Rahmatganj MFS, Brothers Union Limited, and Uttor Baridhara Club football team will participate in the 'Walton Federation Cup 2020' game will be held on 22nd December 2020 at Bangabandhu National Stadium.
On the occasion of unveiling the trophy of the competition, a press conference was held on Today, 21th December at 12:30 pm in the conference room on the 3rd floor of the BFF building in Motijheel in the presence of the participating head coach, team manager and captain.
Mr. Abdus Salam Murshedy MP, Senior Vice President, BFF were present at this logo unveiling occasion, also were present Mr. Zakir Hossain Chowdhury, Member of BFF, Mr. Imtiaz Hamid Sabuj, Member of BFF, Mr. Md. Abu Nayeem Shohag, Mr. FM Iqbal Bin Anwar Don , the Executive Director on behalf of Walton Group and Mr. Mahfuzul Islam , the Junior Assistant Vice President for Premier Bank Ltd.
Also present on behalf of the participating clubs were Mr. Oscar William Brujan Barras Technical Director Mr. Bashundhara Kings, Dhaka, Mr. BA Jobayer Nipu and Mr. Tapu Varman. Team Manager of Abahani Limited, Dhaka Mr. Satyajit Dasrupu, Head Coach Mr. Mario Lisinio Guerrero Lemos, Player Mr. Nabib Newaz Jibon. Head Coach of Saif Sporting Club Ltd. Dhaka Mr. Paul Joseph F. Putt, Head Coach of Arambagh Sports Association, Dhaka Mr. Subrata Bhattachari . Head Trainer of Lt. Sheikh Jamal Dhanmondi Club Limited, Dhaka Mr. Shafiqul Islam Manik. Bangladesh Muktijoddha Sangsad Krira Chakra, Dhaka's Head Coach Mr. Yusukhe Kato, Mohammedan Sporting Club Ltd., Dhaka's Head Coach Mr. Shane Brendon Lane and Team Manager Mr. Imtiaz Ahmed Naqib. Mr. Hashem Mollah, Assistant Team Manager, Syed Golam Jilani Brothers Union Limited, Dhaka, is the Head Coach of Rahmatganj MFS, Dhaka. Paker Ali, Head Coach of Bangladesh Police Football Club and Mr. Abu Taher, Assistant Team Manager and Sheikh Zahidur Rahman, Head Coach of North Baridhara Club, Dhaka.